Princess MedallionClass®
Enjoy a hassle-free holiday on our smart Princess MedallionClass™ ships

What is Princess MedallionClass and Ocean Medallion?
Princess MedallionClass allows for impeccable personalization and service so you can get more out of your vacation. When you book a voyage on a MedallionClass-enabled ship, you can get started right away. All U.S. guests receive their complimentary Ocean Medallion either in the mail before they leave home or upon arrival at the terminal. International guests can pick up their Ocean Medallion at the port. This small device can be carried in several ways. Wear it on your complimentary lanyard, or purchase additional accessories to wear it as a bracelet, necklace or clip. Use your Ocean Medallion to enjoy these benefits: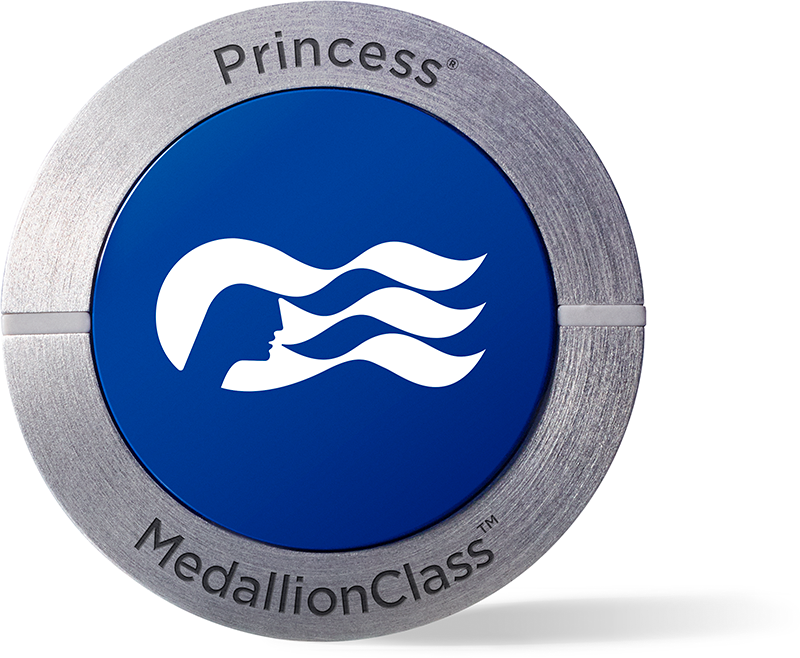 Princess MedallionClass benefits at a glance:
- Faster, contactless embarkation
- Best Wi-Fi at sea
- Easy navigation on board the ship
- Whatever you need will be delivered to you
- Find friends and family on board
- Make a note of events
- Easy access to the cabin
- Games for the whole family

TrulyTouchless™ - Contactless wherever possible
MedallionClass™ cruises are all about making your vacation as enjoyable as possible. The leading technologies on our smart ships help reduce physical contact. Provided your cruise ship is already equipped with Ocean technology, you will soon be able to personalize your cruise even more in advance via a dedicated website (redirected from Cruise Personalizer) . In addition to the usual on-board manifest information, restaurant reservations, beverage packages or shore excursion bookings, you will, for example, have the opportunity to select in advance which events or excursions you would like to experience on your cruise. This allows us to provide you with the appropriate tips during your cruise. And if you enter your full details in advance, you will benefit from faster embarkation.

Learn more about our CruiseHealth™ concept

Contactless Embarkation
From port to pool in the blink of an eye. Start your vacation earlier while keeping the distance you need. Get OceanReady® while you're still at home by downloading the MedallionClass™ app from the App Store or Google Play Store. Choose your desired arrival time slot so not all guests are trying to board at the same time.
You can pick up your OceanMedallion™ at your departure port and easily make your way aboard, straight to your favorite seat.

Easily navigate the ship
Let the MedallionClass app on your phone or one of the many digital touch screens on the ship guide you to anywhere on board. Stay connected with your family, friends or travel group no matter where you are on board! Easily locate them anywhere on the ship and message them at your convenience.

Key-less Access
Don't have your hands free right now? No problem. You walk down the hallway and voila! Your door opens completely by itself when you approach it, and even with a personal greeting. You will enjoy the keyless entry with automatic door locks every time you enter your cabin
Contactless Payment
Shop without cash or cards. Whether it's food, drinks or even laundry tokens thanks to MedallionPay™ completely contactless payment! Crew members can confirm your identity, based on your uploaded photo and location. Worried about how much you (and your family) bought during your cruise? Easily keep track of your onboard spending in your portfolio. You can access it anytime with your mobile devices to keep track of your onboard spending.

Order food, drinks + more on demand via OceanNow
Feeling hungry during Movies Under the Stars®? Forgot your sunscreen by the pool? Want to avoid the crowds or standing in line? Order whatever you need - burgers, beer, extra towels, aloe, etc. - and we'll bring it to you (one-time activation fee in the amount of 14.99 USD). Keep your distance and continue to enjoy great service.
The best Wi-Fi at sea - Stay connected on your voyage
with our MedallionNet®. With MedallionNet®, you can access the Internet anywhere on board so you can:
- Send text messages, use video chat, share photos and check email
- Stream your favorite shows, movies, music and sports
- Stay in touch with your loved ones
- Choose between a package for one or four devices for the entire trip or just for a single day.
Medallion Net:
Find cruises with MedallionNet available: Caribbean Princess® | Coral Princess® | Crown Princess® | Diamond Princess® | Emerald Princess® | Enchanted Princess® | Grand Princess® | Island Princess® | Majestic Princess® | Regal Princess® | Royal Princess® | Ruby Princess® | Sapphire Princess® | Sky Princess® | Discovery Princess℠
For more information on accessibility at sea, here
Find friends & family on board
Stay connected with your group no matter where you are on board! Easily find your friends and family anywhere on the ship and send them messages with ease.

View and reserve onboard events
Get an overview of the events happening on your ship - live music, games, stargazing, dance classes and more - and create your own itinerary so you don't miss a thing. Preplanning helps you make the right decisions about how you want to spend your time. When deciding on an event, check to see how many people have reserved a venue at any given time. With a look at the upcoming ports and activities for the entire trip, it is easy to plan ahead.

Dining Options & -Reservations:
Dine when, how and where you want
With a Dine My Way reservation, you can schedule your personal dining experience. Customize your meal times for each day and choose between the main dining room and specialty restaurants. Eat at the same time each night or change the time to suit you. Choose from a variety of options and avoid lines and wait times.

*Reservation times are based on restaurant capacity and availability.

Learn more about Dine My Way reservations here.
The MedallionClass App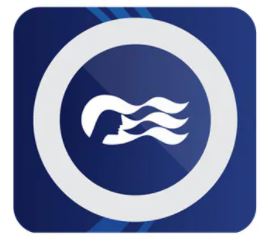 The all-in-one app interacts with your Medallion so you always have access to the new MedallionClass digital experiences. You can also access these offerings through your in-cabin TV and digital screens on the ship.